Units respond to hazardous material spill at Foss
Regular tipster Silver has just informed us that multiple emergency units are responding to a hazardous material spill at Foss, located at 660 W Ewing Street. According to the police scanner, a container of hazardous material is smoking. Units are working to contain it now. There is no more information at this time, but we'll update this story as soon as we know more.
Queen Anne Farmers Market 2011 season prepares to kick off next week, under new management
Even with the sparse rain drops falling sporadically around town today, it seems spring has finally arrived, and with that comes, at long last, the opening of the Queen Anne Farmers Market season, which will kick off just one week from today, on Thursday June 2 until Thursday, October 6.
The market, which has always been under the wing of Queen Anne Neighbors for Responsible Growth (QANRG), is under new management this year after a disagreement arose between the QANRG and the market's former director Julie Whitehorn, who has managed the market for the past two years. After many months of uncertainty, Whitehorn and the QANRG were unable to resolve the dispute and opted instead to go their separate ways rather than see the market suffer. Read Whitehorn's resignation letter here (.pdf), and the QANRG's press release introducing the market's new staff team here (.pdf).
Still despite the changing of the guard, QANRG says the market will maintain many of the same staff members, volunteers and vendors from prior seasons, keeping consistent with the community that has grown around the market over the last four years.
"This year's market builds on a successful 2010 season that saw customer attendance increase by 94 percent and the growth of a dynamic vendor roster of 64 farmers and prepared food vendors. In its fifth year as the fiscal sponsor, QANRG remains steadfastly committed to creating a sustainable market that can continue to serve the community for years to come," QANRG President Scott Smith said in a statement released last month.
The market's new manager, Jamie Collado, brings with her more than nine years of experience working in the local food scene managing restaurant operations, and has a particular interest in health and nutrition. While completing her preceptorship with Seattle Nutrition Action Consortium, Seattle and King County Public Health, she taught healthy eating classes for local teens, putting her undergraduate and graduate education in nutrition and exercise to work.
In addition to adding some new faces, this year's market will also report to the QAFM Steering Committee, a group made up of former market staff, volunteers, and community members who will be charged with the task of overseeing market operations, community outreach and planning for the market's long-term sustainability. (Read more about the steering committee in the QANRG press release linked above).
The new market also has a brand new website to match, but ther than that, very little will be changing at the market itself. Held at its usual spot on West Crockett Street between Queen Anne Ave N and 1st Ave W, the market will be extending its hours by a half-hour, going from 3 to 7:30 p.m. instead of 7 p.m. every Thursday through October 6. And each week the market will still be packed with great local vendors, live music, cooking demos, book signings, and more fun events. Check out the list of vendors scheduled to appear at the market this year here.
Want to get involved in the QAFM? Information on how to become a market sponsor by making a tex-deductible donation can be found here.
The QAFM is also still looking for volunteers for the upcoming season for everything from staffing the information table, to donating professional services such as web design or photography. If you've got a skill you'd like to share with the market, or would simply like to donate your time, please contact Volunteer Coordinator Kelly Decker at 206-854-0143 or YouMakeQAFMGreat@qafma.net.
We'll give you the sneak peek at what's on the agenda for the market's grand opening next week, but in the meantime don't forget to 'like' the market on its new Facebook page, and follow it on its new Twitter account.
Nearby: Picnic canceled, OrcaMan, watershed
Here are stories making headlines in nearby neighborhoods:

Open house on W Thomas Street overpass tonight
The Seattle Department of Transportation (SDOT) is scheduled to begin construction on the West Thomas Street Pedestrian and Bicycle Overpass, a project designed to improve safety and provide direct access to Myrtle Edwards Park from the Lower Queen Anne area for pedestrians and bicyclists, next month. The project was originally slated to begin in August, but was pushed up after a lawsuit over the project's schedule, which conflicted with Seattle's annual Hempfest festival and rally.
In advance of construction time SDOT is inviting the public to learn more about the project, including information on traffic detours and area impacts throughout the construction period, from 5 to 7 p.m. tonight, Thursday, May 26 in the Elliott Bay Room of Homewood Suites, located at 206 Western Ave W, near the overpass site. From SDOT:
SDOT project staff will be available to explain design and construction details, and answer questions. There will not be a formal presentation, so participants may show up any time between 5 and 7 p.m. Complimentary parking underneath the Homewood Suites building is available by checking in at the front desk and obtaining a key card to enter the secure parking garage.
When the overpass is completed it will provide access over the very busy Elliott Ave W and the Burlington Northern Santa Fe (BNSF) railroad tracks to Myrtle Edwards Park. It will also serve as a connection for bicyclists, part of a future Lake Bay Loop – a planned bicycle route that will run between South Lake Union, Seattle Center and the existing bicycle trail in Myrtle Edwards Park.
The project, part of the Walk, Bike, Ride initiative and funded by the Park Levy I and II, grant funds from the Puget Sound Regional Council and King County, and private donations, is estimated to cost a total of $10 million.
For more information visit the project website, or review our past coverage here.
City plans crackdown on prostitution near Seattle Center
City officials may soon be cracking down on prostitution activities in the stretch of land just east of Seattle Center – the area known as "The Track" along Mercer between 5th Ave N, Lenora, and Westlake, which has become a prime target for gang activity and recruitment into prostitution, according to a report by SeattleCrime.
Documents from the City Attorney's Office, obtained by SeattleCrime, indicate that officials are interested in creating a new Stay Out of Area of Prostitution (S.O.A.P.) zone in the area. From SeattleCrime:
The S.O.A.P. zones allow courts to require people charged with prostitution to stay out of high-prostitution areas–primarily around downtown–while they await trial or following their release from jail.
The city already has seven S.O.A.P. zones set up around town. According to the report, officials would remove the zone around E Pine to Pike from 10th Ave to 9th Ave., and create a new zone around The Track, where several gang members involved in pimping young women were arrested last year.
Staff from the City Attorney's Office are scheduled to appear in front of a judge to ask for the S.O.A.P. zone expansion on Friday. We'll keep you posted as we learn more. You can read the full story at SeattleCrime.
Changes made to Met Market site development
Emerald Bay Equity recently made changes to a submitted land use application for the mixed-use project on the site of the Metropolitan Market.
As we reported earlier this month, the land use application for the final of four mixed-use projects EBE is planning on the hill would allow a four-story, 112 unit residential building above retail units with parking below ground at 1900 Queen Anne Ave. N. The change in the application calls for 45,120 square feet of retail distributed at ground and below-ground level. The original application planned for 30,000 square feet of retail at just ground level.
The project is expected to begin sometime in 2012, said Emerald Bay Equity principal Joe Geivett earlier this month.
The public comment period has been extended to June 1. Information and instructions on public comments for Department of Planning and Development land use applications can be found here, and you can submit comments on this project directly here.
Queen Anne squatter arrested for fraud & ID theft
A 45-year-old woman who has been squatting in a Queen Anne home for the last couple of weeks was arrested by Seattle police on suspicion of fraud and identity theft spanning across multiple states earlier today, according to Detective Jeff Kappel, who published the following information on the SPD Blotter.
On May 12th officers began investigating a complicated fraud/identity theft/criminal impersonation situation in which a female suspect had attempted to lease a residence using a false name and then managed to occupy it without making any payment.  The residence in question is located in the 2700 block of 5th Avenue West.
After some investigation SPD officers discovered that the suspect had two felony fraud warrants from Nevada out on her. Officers attempted to contact her at the house but were unsuccessful until, at approximately 7:45 a.m. today, Wednesday, May 25, they located her driving in the alleyway in the 2400 block of 4th Avenue West. The suspect was then taken into custody, at which time "numerous identification documents in different names" were found in her possession.
The suspect was booked into the King County Jail on Investigation of Criminal Impersonation and Investigation of Fugitive. A preliminary investigation of her local crimes estimates the total financial loss to be over $10,000, according to the report. Seattle Police Fraud, Forgery and Financial Exploitation (FFFE) detectives will be handling an on-going investigation of this incident.
Pose your questions to the Mayor tonight
Tonight is the monthly "Ask The Mayor" show on the Seattle Channel hosted by C.R. Douglas. If you've never seen the show, Mayor Mike McGinn answers questions from the public on a range of topics. In last month's show, Mayor McGinn said, "I don't care how people get around. If they choose to drive, they choose to drive. I can't get my wife out of a car, so I'm not going to try to get other people out of their cars either." (See last month's episode here.)
The show airs live from 7 to 8 p.m. If you have an issue, concern, or question you'd like answered, you can call 206-684-8821, email askthemayor@seattle.gov or Tweet to @SeattleChannel. The show airs on cable channel 21 or online here.
Gates Foundation moves into new headquarters, invites community to opening celebration June 4
After several years of work, construction on the Bill & Melinda Gates Foundation's new Lower Queen Anne headquarters is now complete, and the international philanthropic organization is preparing to kick off operations in its new home with a community celebration on Saturday, June 4.
Photo courtesy of NBBJ, via the Bill & Melinda Gates Foundation.
The Foundation is inviting community members interesting in touring the 12-acre campus overlooking the Space Needle and the Seattle skyline to attend the opening reception on June 4, which will go on all day, from 10 a.m. to 4 p.m. Due to security and capacity concerns attendees must RSVP for the event beforehand and register for an available one-hour slot during the day in which they will visit the campus.
Photo courtesy of NBBJ, via the Bill & Melinda Gates Foundation.
The Foundation will be opening up designated areas on the first and second levels of the North Building for self-guided touring during the reception. There will also be a number of the organization's local grantees in attendance. Drinks will be served.
While registration will be available day of, but on a first come first served basis, so prior registration is recommended. Attendees may register for a time slot here.
Photo ©George White, courtesy of the Bill & Melinda Gates Foundation.
Though the Foundation says it has completed construction on the campus, it should be noted that it still plans to add a third building at an undetermined time in the future to match the organization's growth and meet any future needs.
Learn more about the new campus at the Bill & Melinda Gates Foundation website, download the frequently asked questions (.pdf) about the new headquarters, and look for our coverage of the opening reception in the week of June 5.
One Reel reaches $500K 4th of July fireworks goal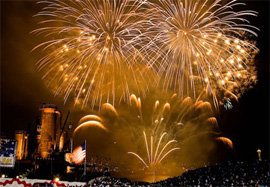 After almost a year of uncertainty, followed by fundraising for the July 4th fireworks at Gas Works Park, event organizer One Reel today announced the $500,000 goal has been reached and Family 4th fireworks show and celebration will go on.
Interesting note: It wasn't a Northwest company or person who got One Reel to the goal; instead support bubbled up from Coca-Cola Refreshments – Northwest Region, based in Bellevue. Other supporters include Microsoft, Starbucks, Nordstrom, Talking Rain, BECU, Charlie's Produce, Merrill Gardens, Taco Time and Smith Brothers Farms.
From the press release:
"Fundraising for the 2011 event began in July of last year, and contributions have come from supporters throughout our region, all with inspiring stories and memories of this Northwest family tradition," says One Reel Executive Director, Jon Stone. "With true appreciation for the partnership and dedication of the Greater Seattle Chamber, we are glad to put this year's budget to bed, and look forward to putting on one heck of an Independence Day party for Seattle."
Family 4th at Lake Union starts at noon at Gas Works Park (2101 N. Northlake Way) on Monday, July 4. The fireworks show begins at 10 p.m. See all our 2010 fireworks coverage here.