New Seasons
Posted on May 6th, 2018 by Sara Willy
A sponsored post from our friends at New Seasons Market
Hey, Seattle!
Our new store at 951 NW Ballard Way opens May 9, and we're celebrating with great deals at both of Seattle area stores- on Mercer Island and in Ballard! We can't wait to pull up a chair and share our love of tasty food with you. In the meantime, we thought some introductions were in order. We'll go first.
We're the world's first B Corp grocer.
B Corp is a tough-to-get certification recognizing the good stuff we do for our people, planet and communities. Want to know more?
We give back to our community.
We're serious about making a difference in our neighborhoods—from donating 10% of after-tax profits to local non-profits, to giving our staff paid time off to lend a hand in the community.
We really, really love local.
We've worked hard to build lasting relationships with local farmers, ranchers, fisherman and makers to bring you the best products from close to home.
We're makers and bakers.
Our people are an eclectic bunch and we all share the same passion for tasty, high quality food.
We're not happy 'til you're happy.
Want to try something? We'll open it for you. Don't need the whole pack? We'll split it for you. It's just the New Seasons way.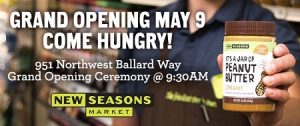 Welcome!
One response to "New Seasons"