Celebrate Chanukah & local firefighters at free Sunday event
Chabad of Queen Anne is hosting a Chanukah public menorah lighting ceremony tomorrow, Sunday, December 25th at the corner of Queen Anne Ave N & Crockett St. In addition to the lighting ceremony, there will also be a tribute of appreciation for our local Queen Anne Fire Station No. 8.
The Queen Anne Seattle Fire Department lieutenant will be on hand to help with the lighting, and a fire truck will be on site for kids to explore. Plus, face painting, donuts and latkes, chocolate gelt, dreidels, and music.
The event starts at 5pm, and the first 50 people get glow in the dark menorah necklace! Plus, a raffle open to all for great Chanukah prizes.
Happy Thanksgiving weekend from local Seattle Fire Department Station No. 8
Our local Seattle Fire Department Station 8 firefighters celebrated Thanksgiving this past Thursday at the station on the corner of Warren Ave N & Lee St. Their families joined them in a traditional meal served at Station 8 – and, true to their service, they were called out 4 times during the meal.
If you heard sirens on Thanksgiving, that was our local firefighters busy at work and taking a break from their own turkey feast.
Jenn Kirkpatrick shared this photo of the celebration to share with readers (thanks, Jenn!). Her husband, Lieutenant Kirkpatrick, has been in the Seattle Fire Department for 25 years, and has been at Station 8 for the last 15 years. According to Lynn: "This is his home away from home."
Thank you to our local Seattle Fire Department Station 8 firefighters!
QACC Public Safety meeting on Monday hosts Seattle Fire Department Battalion Chief
Future SFD Queen Anne Firefighter
The newly formed Queen Anne Community Council (QACC) Public Safety Committee will host a meeting this Monday, April 27th from 7pm to 8pm, at Queen Anne Manor (100 Crockett St).
The meeting is the second for the new committee that focuses on community safety issues, and this month Seattle Fire Department Battalion Chief Geoff Wall will be the special guest. Wall oversees SFD for Queen Anne, Magnolia, Interbay, and Fremont. He'll discuss the fire and rescue capabilities of SFD as well as any Queen Anne-specific issues.
The meeting is open to all, so if you're interested in how SFD helps keep Queen Anne safe, join in the discussion on Monday night.
Early morning fire at apartment on Boston St
If you heard sirens around 3:20am this morning, it was a Seattle Fire Department response to an apartment fire at 118 Boston St.
The fire was caused by improperly discarded smoking materials, and caused $65,000 in damage to the building and $5,000 in damage to the apartment contents. No injuries were reported.
According to our SFD contact:
"Seattle Fire Investigators determined an early morning fire at Queen Anne apartment complex was caused by improperly discarded smoking materials.
At 3:21 a.m. firefighter were called to the 100 block of Boston Street for a report of thick smoke inside the 2-story apartment complex with a basement. When firefighters arrived they made forcible entry into a basement apartment and quickly extinguished a fire on a mattress. The occupant was not home at the time of the fire.
The residents evacuated out of the complex due to the heavy smoke. Firefighters used large fans to air all of the smoke out of the building. Crews used air monitoring equipment to make sure the air quality levels were safe to allow the residents back in the building."
Update: Truck fire at Mt Pleasant Cemetery was intentionally set
UPDATE as of Wednesday: We received word this morning from SFD that investigators have determined the cause of the truck fire at Mt Pleasant Cemetery is incendiary, which means intentionally set. The truck damaged was a Ford F150 pick-up and the damage estimate is $3,600.
*********
In addition to seeing the real-time 911 report on an Upper Queen Anne fire this morning, we also got several reader tips on a fire at Mt Pleasant Cemetery. At the time, Seattle Fire Department was reporting a response to a car fire at 5th Ave W and W Raye St, but we had several Queen Anne resident witnesses who said it was in the cemetery.
We reached out to Seattle Fire Department to clear up any confusion, and they've responded to let us know the following:
"At 7:26 a.m. the Fire Alarm Center received several 911 calls regarding a possible car fire in the cemetery. Engine 20 arrived to find a truck fire in the cemetery that extended into a tree. It took about 15 minutes for firefighters to knock down the fire. The cause of the fire is under investigation."
No one was injured, and neighboring residences are safe.
Two alarm fire on Lower Queen Anne; 3 homes destroyed
Update: as of 10am, Tuesday, April 2, Seattle Fire Department says cause of Lower Queen Anne fire was incendiary. Seattle Police Department arson bomb squad is investigating.
Update: as of 9:48pm, KING 5 is reporting that all 3 homes involved are destroyed. Streets around Warren, Roy and Valley are closed for now, and will be during the ensuing investigation. No one was injured in the fire.
Photo credit: KING
Firefighters are battling a 2 alarm fire on Lower Queen Anne in the 700 block of Warren Ave N. According to the Seattle Fire Department, 3 homes are involved in the fire, and the smoke is thick enough for them to warn people to stay away from the area.
SFD first responded to the incident 8:23pm with the latest dispatch at 9:15pm this evening. Per the realtime 911 site, the response site is a home at 714 Warren Ave N, no word from SFD on whether the home is a single family residence or duplex.
Additional photos are available at KING 5's web site.
Construction on New Fire Station 20 Begins in 2013 – It'll Be Green & Sustainable
Back in 2006, then-Mayor Greg Nickels described the West Queen Anne Fire Station 20 at 3205 13th Ave W, as being "in the worst condition of the 33 stations in our system", citing its inability to meet current code requirements or the daily needs of firefighters, as well as its unsuitability for seismic retrofitting. In 2009, a new site for Fire Station 20 was chosen by the City Council – 2800 15th Ave W.
The new site is comprised of four lots, 2 vacant lots and 2 commercial lots (boarded up and vacant), at the northeast corner of 15th Ave West and West Armor Street. It will become the new home of Fire Station 20 in 2014, serving Queen Anne, Interbay, Magnolia, Ballard, and north downtown. Fast forward to today, the design firm has been chosen and plans are in place with early drawings available. Construction on the new station begins in Spring 2013 with completion estimated for early Summer 2014. The construction budget will top out at $5.7 million, funded by the Fire Facilities and Emergency Response Levy Program passed by voters in 2003.
The new Fire Station 20 won't be your typical station – it'll be an example of green infrastructure and the City's new model of sustainable design. The City challenged the Fire Station 20 design team to create a building that meets the criteria for LEED Platinum certification, and adheres to guidelines outlined in the Architecture 2030 Challenge. Key impacts include reducing water usage by 40% and energy usage by 30% – with actual energy savings rising to 40-50% once the building is operational and running as planned.
The innovative green design elements include the following:
Terraced gardens along the north and east will provide a protected green area for native plants and a vegetable garden for the firefighters
Storm water runoff will be treated and filtered via systems as well as the garden's vegetation
Two green roofs will support infiltration and evapotranspiration, provide additional softscape reducing heat-island effect, and provide a habitat for birds and insects
Ground source heat pumps will boost efficiency and reduce the operational costs of the heating and cooling system
A rooftop solar panel array will provide all of the energy needed to heat the water used in the sinks and showers in the building, and store excess energy for use in the building.
All plumbing fixtures will be ultra-low flow, with toilets using 1.28 gallons per flush, versus the standard 3.5 gallons
Greywater from sinks, showers and laundry facilities will be collected, filtered, and reused on-site to flush toilets
The City and Design team want to use the new green, sustainable station as an educational opportunity to engage and inform people about how the project protects the environment, operates efficiently, and does so all in the space of 9,446 square feet. The site will be accessible to the public on three sides and the grade will allow people to see the solar panels and green roofs from above. The City is currently exploring public signage highlighting the sustainable features of the station and a flip-dot electronic signboard connected to the station's control system.
Firefighters 'Fill the Boot' for Jerry's Kids in QA
Seattle firefighters will be collecting donations during their annual "Fill the Boot" drive all over Seattle, as well as at Queen Anne 'caffeine corner' (the intersection of Queen Anne Ave N and Boston), today benefiting Jerry's Kids, a fundraiser by the Muscular Dystrophy Association (MDA).
Queen Anne's firefighters say they will be at caffeine corner for most of the day—they're still on call, but will be collecting donations on and off between their regular duties.
"According to MDA, the Fill-the-Boot campaign has raised over $435 million nationally for those affected by muscle-deteriorating diseases. Last year, the Seattle Fire Department was the number-one department in Washington State, contributing over $105,000 to MDA's Fill-the-Boot campaign," SFD wrote on its Facebook page.
For more information on MDA and the work it does to fight muscular disease, check out the organization's website.
Happy Fourth of July, Queen Anne!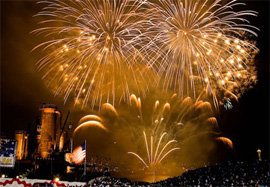 With warm weather in the forecast, it looks like it's going to be a nice day. Combine that with tonight's Independence Day festivities and it should be a fantastic Fourth.
Couple notes from the SPD and SFD to get you on your way today…
The Seattle Police Department and Seattle Fire Department would like to remind the public that fireworks are illegal in the City of Seattle.

The possession, manufacture, storage, sale, handling and use of fireworks are prohibited. Fireworks offenses are gross misdemeanors punishable by up to one year in jail and/or a $5,000 fine.

Any fireworks-related fires or injuries should be reported directly to 911. Other fireworks violations may be reported by calling the Seattle Police non-emergency number at (206) 625-5011.
As a heads-up as to what's open, what's on and what's not happening today…
CleanScapes garbage, food and yard waste, and recycling collections will be on normal schedule. The North Recycling and Disposal Station will be closed, but the South Recycling and Disposal Station will be open.
All Neighborhood Service Centers will be closed.
Metro Transit bus routes will be operating on a Sunday schedule.
Libraries will be closed. Book drops at the Queen Anne library will be open, but the one at the Central Library will be closed.
The post office will be closed and there will be no regular mail delivery.
The liquor store in Queen Anne (515 1st Ave N) will be open from 10 a.m. to 7 p.m.