When I moved back to Seattle last year after a four-year stint in L.A., I was ecstatic to be moving to Queen Anne hill–near downtown, the waterfront, and Lake Union! A month after I moved in to my apartment and before I began my work at QueenAnneView, I climbed up to Kerry Park to watch for 4th of July fireworks show over Elliott Bay. I, and evidently some 200 other people, had not received the memo that the show had been canceled.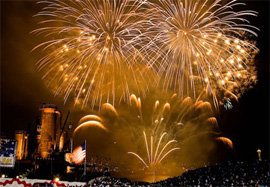 After waiting around for 30 minutes, I decided to do a little Googling on my phone. A few minutes later we heard a loud cracking noise coming from the north east. We turned and saw the very top of the fireworks show from Lake Union just peaking over the top of Queen Anne hill.
Up until this point we've been lucky in Seattle–having our choice of two gorgeous fireworks shows on Independence Day. When the Elliott Bay fireworks show folded last year, Seattleites piled into Gasworks Park, a prime spot to catch the Lake Union show. However yesterday, Wednesday, March 31, One Reel, the company that produces the event, announced that there would be no Family 4th at Lake Union this year, citing the lack of a corporate sponsor to fund the non-profit for the event. Tomoko Moriguchi Matsuno, president of the One Reel Board of Directors wrote this letter on ChaseFamily4th.org.
Dear Community,

Since 1988, One Reel, the Seattle not-for-profit arts organization of which I am Board President, has been proud to produce the cherished Independence Day celebration and fireworks show, the Family 4th at Lake Union. This day of free family entertainment and a dazzling fireworks display has been, for more than two decades, an important time for us to come together as a community and celebrate this great country.

As a non-profit organization, One Reel's core mission is to produce arts and cultural events that engage and enrich our community, but we cannot do it alone. You may not realize this free civic celebration has been an annual gift to Seattle made possible only through the generosity of a corporate sponsor who underwrites the cost of the event. One Reel wishes to extend a very special thank you to the sponsors we've been fortunate to work with over the years, including Fratelli's, Cellular One, AT&T, WaMu and Chase.

For the past 15 months, One Reel has worked tirelessly to secure a title sponsor for the 2010 Family 4th at Lake Union but, regrettably, we were not able to secure one in time to proceed with this year's event. For that reason, it is with a heavy heart we announce there will be no fireworks or festivities at Gas Works Park this year.

We understand the disappointment you must feel; we feel it too. However, I can assure you that One Reel is already hard at work searching for a new title sponsor who shares our commitment to presenting this beloved community event in Seattle next year, and long into the future. As always, One Reel remains dedicated to providing you with premier events—from the Family 4th at Lake Union, to Bumbershoot: Seattle's Music & Arts Festival, to Teatro ZinZanni—that showcase the talent, artistic diversity and integrity of our great city.

Thank you, Seattle, for your ongoing support. We'd like to thank everyone—from our generous past title sponsors, to the City of Seattle, to event suppliers and on-site vendors, to more than 5 million patriotic revelers over the last 20 years—all of whom have made this event such an iconic holiday tradition.

We look forward to seeing you next year at Gas Works Park for the Family 4th at Lake Union.

Sincerely,
Tomoko Moriguchi Matsuno
President and CEO Uwajimaya Inc.
President, One Reel Board of Directors
Us in Queen Anne have been able to see both firework shows from our high perch on the hill. But with the canceling of the Lake Union and Elliott Bay shows, this year will be the first time in 46 years that Seattle will not have a fireworks on the 4th. What do you think of a 4th without fireworks in Seattle? Do you think the lack of corporate shows will result in an increase in illegal fireworks?