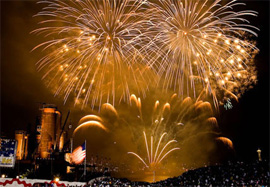 Ever since One Reel announced that it would have to cancel the Lake Union 4th of July fireworks show due to the lack of corporate sponsorship on Wednesday, the city has banded together to save the only remaining Independence Day fireworks in Seattle.
Seattle restaurateur Tom Douglas announced on 97.3 KIRO FM's Dave Ross Show yesterday that he would donate $5,000 toward the effort, kicking off a rush of pledges from businesses and individuals to raise the necessary $500,000 for the fireworks.
According to MyNorthwest reports, Starbucks and Microsoft, both homegrown right here in the Seattle Metropolitan area, announced that they would pitch $125,000 each for a total of $250,000–or half of the funds needed–if Seattle businesses and community members were able to raise the remaining $250,000. And this morning the running total of pledges reached the $500,000 mark! Congrats Seattle! The fireworks have been saved!
(Full disclosure: Next Door Media, which powers QueenAnneView.com, has donated to this fund.)