4th of July Fireworks show at Gas Works will go on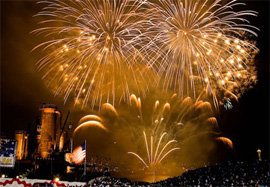 Have a favorite spot picked out on the east side of the hill to watch the 4th of July fireworks over Lake Union? Good news: You can go ahead and make your plans for Independence Day—One Reel announced today that its annual July 4th Fireworks show at Gas Works Park will go on.
One Reel, which organizes the Family 4th at Lake Union, announced Thursday that several key sponsors from last year, including Starbucks, Microsoft, Nordstrom, Charlie's Produce, and Tom Douglas Restaurants, have committed to sponsoring this year's fireworks show, KING 5 reported this morning. You can read the whole story here. Check out the full list of supporters here.
Last year, you'll recall, One Reel initially canceled the fireworks show. But unable to picture a 4th of July in the city without fireworks, local businesses and fireworks lovers banded together to donate the $500,000 necessary to light up the sky (including large pledges from Microsoft and Starbucks). Read more about last year's show here and here.
Because of the immense support the community has thrown behind the fireworks show, One Reel has given the Family 4th the slogan "by the people, for the people." Over the next six weeks the group will be soliciting donations from the community to raise the additional $200,000 needed to fund the show. Those interested can make a donation here to help the Family at the 4th reach its funding goal by March 1.
Summer is officially here!
It's true when they say that summer doesn't start around here until after the 4th of July. Well it's July 6th and summer is here. Right on time.


The 5-day forecast from King5.com
Cliff Mass explains why there is a sudden shift in the weather pattern, "Two reasons: high pressure aloft is producing general sinking and warming of air (by compression) is the first. And there is easterly flow developing over the Cascades, which produces enhanced sinking (warming) on the western slopes." You can read his entire explanation, complete with maps highlighting the weather over the next few days, on his blog.